Truck Dispatch Software
Streamline dispatch management with seamless scheduling, driver assignments, a dedicated mobile app for drivers, and automated customer receipts - making you more efficienct and improving customer experience.
You could be up and running in the next few minutes
Do you find yourself...
Constantly checking a notebook or spreadsheet to figure out your loads
Spending too much time calling and texting drivers to keep everyone on the same page
Wasting time tracking down missing tickets
Falling behind getting load information to your bookkeeper or accounting team
Losing money due to lost paperwork
"We missed out on $3,000 in billing over the past few months"
The words that started it all. During a conversation with one of our first customers, in only 5 minutes of skimming his records, he found money that hadn't been billed becuase tickets and receipts hadn't been submitted from his team. He was worried what he would find as he dug deeper.
Sound familiar?
This hasn't been an issue since using Fleet Command Dispatch. There is no more paper to lose. Nothing for drivers and operators to turn in. No more tickets with chicken scratch that can't be decoded. No more searching the cabs of trucks to find scraps of paper with load info.
Their dispatch manager saves hours every day. Staying on top of deliveries and keeping customers happy has become easier. He is able to focus on important things. Including getting load info to billing faster.
Get Up and Running in Minutes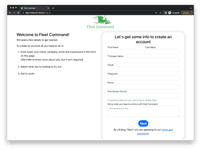 1. Signup
All you need is your name, a company name, email address and password.
That's it! 100% nothing else needed to get started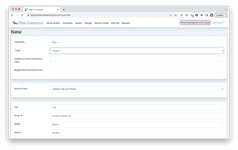 2. Add your first asset
Type and indentifier (i.e. Truck 123) are all that's needed to start.
You can add more later such as engine serial # and tire size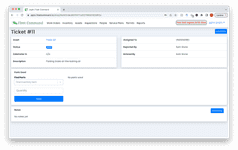 3. Add Your First Work Order & Get To Work
Add a work order and walk through your first repair
When you sign up, you get....
Unlimited Loads Deliveries
Unlimited Load Tickets
Unlimited Drivers
Unlimited Customers
Unlimited Dispatchers
Unlimited Bookkeepers
Dispatcher Web & Mobile Apps
Mobile App for Drivers and Foremen
Load Pricing Screen
Reconcile Tool for Bookkeeping
Automated Customer Receipts with Your Logo
Pickup and Dropoff Signatures
Excel and CSV Exports
Optional Driver Self Dispatching
Pre-load Dispatching
See How To Add Your First Load Delivery
Fleet Command Dispatch Key Features
Driver Dispatch App
Drivers can accept loads, notify of pickup and dropoff and more. There is also the option for drivers to create their own loads to deliver.
Signature Collection
Collect sigantures when materials are picked up or dropped off.
Automatic Email Receipts
Automatically send PDF receipts with your logo to customers for faster billing.
Pricing Management
Dispatchers and managers can easily price dispatched load and tickets to send to accounting.
Export to Excel
Download records to excel for your records or to send to customers.
Photos
Take photos of tickets, bills or delivered materials.
Frequently Asked Questions
What is Fleet Command Dispatch?
Fleet Command Dispatch is truck dispatch software designed to streamline load ticketing, driver assignment and dispatch processes for construction, excavation and short haul trucking companies.
How does Fleet Command Dispatch improve dispatch processes?
Fleet Command Dispatch simplifies dispatch processes by providing a centralized platform for managing driver assignments, load ticketing, pricing, and tracking of deliveries.
Is Fleet Command Dispatch available on mobile devices?
Yes, Fleet Command Dispatch offers a dedicated mobile app for dispatchers and drivers, allowing them to access assigned loads, track pickups and drop-offs, and receive real-time notifications on the go.
Does Fleet Command Dispatch offer a paperless ticketing solution?
Absolutely! Fleet Command Dispatch features a paperless mobile ticketing system, eliminating the need for physical tickets and reducing the risk of lost or misplaced documents.
How does Fleet Command Dispatch handle load pricing and billing?
The platform includes a load pricing screen that enables dispatch managers to create pricing reports and send them to the billing department through the app or as an Excel download. The billing department can then mark which deliveries have been reconciled.
Can Fleet Command Dispatch collect signatures for deliveries?
Yes, Fleet Command Dispatch allows drivers to collect signatures for materials picked up or dropped off, providing a secure and paperless proof of delivery.
Is there a free trial available for Fleet Command Dispatch?
Fleet Command Dispatch offers a 30-day free trial with no credit card required, allowing you to experience the platform's features and benefits before committing to a subscription.
What type of support is available for Fleet Command Dispatch users?
Fleet Command Dispatch provides comprehensive customer support, including online resources and email support to ensure a smooth user experience.
Can Fleet Command Dispatch integrate with other software or systems?
Fleet Command Dispatch allows users to export records to Excel or CSV files, making it easy to share data with other software or systems used by your business.
Is Fleet Command Dispatch suitable for businesses of all sizes?
Yes, Fleet Command Dispatch is designed to cater to businesses of all sizes, from small operations to large enterprises, providing scalable and customizable solutions to meet the unique needs of each organization.
No more missing tickets.
We know you've felt it before. The feeling of being overwhelmed by the constant stream of paperwork and moving pieces that come with running your business.
You need to know that your materials are being delivered on time, loads are being tracked and everything is billed on time. But the problem is there are a lot of moving pieces, which makes it feel like you're trying to catch up with a moving target.
But we believe anyone can simplify their materials loading and hauling process with little effort. That's why we partnered with dispatch managers at trucking and construction companies to build a tool that is effortless to use. Here's how it works: sign up, add a driver to the app who will get instructions on how to get started, from the web dashboard assign your first load. So sign up today for a 30 day free trial (no credit card required), so you can stop chasing paper and start managing your dispatching at the click of a button.
Simplify Your Truck Dispatching Process
Say goodbye to complicated dispatch processes. With Fleet Command Dispatch, you can simplify your dispatching needs in one place. Get everything done from dispatch information, delivery receipts, customer signatures, addresses and more. With an app that anyone can learn quickly.
Try Fleet Command Dispatch for your team
30-day free trial | No credit card upfront
Find the dispatch mobile app on your app store
(To login, you will need to register through this site first)