How to Manage Your Company's Repair Submitting Process
July 11, 2022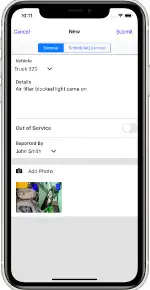 If you're a trucking fleet owner or manager, then you know how important it is to keep your vehicles in top condition. If you don't, your company could face serious consequences—from fines to injury lawsuits to a loss of business. But if you don't have the right tools at your disposal, it's easy to feel overwhelmed by the sheer volume of work that needs to be done.
Everything starts with HOW issues are passed along to your mechanics.  If it isn't easy, it won't be used.
And if you're not sure how to do it… well, let's just say we know how to do it better than anyone else out there. We have made it as easy as possible for your drivers and operators to submit issues when they happen….wherever they are. 
It's as simple as:
Select the vehicle or equipment that has the issue
Enter a brief description of the problem. (take a photo and you can use fewer words!)
Click SUBMIT
If you want to see how easy it can be for your shop managers or truck drivers to manage their repair process and make sure everything goes through without a hitch, try us out today!